2021 Virtual Summer Institute
June 28-30, from 4-6 pm EDT
Welcome to Defending the Early Years' annual  Summer Institute,  June 28-30.  We are excited to once again host this free three-day summit where we bring together national experts to share their thoughts and expertise with our community of educators, parents and educational activists.
This year, we wanted to think beyond the pandemic and focus on what teachers, parents and children need and how we get there.  This year, and over the next three days, we will be discussing three essential topics:
Planning for a better future for early childhood, instead of merely returning to "normal," because "normal pre-pandemic" was pretty awful for children and teachers.
Advocating for play.  Play is how children learn and is essential for the early years.  We talk with play advocates about the power of play and how we can best advocate for play.
Picking up where we left off at our last Institute. How do we build an equitable ECE future for all our children and our teachers? What do we need to consider and how do we make those changes?
Our Co-founder, Nancy Carlsson-Paige will kick-off the Institute on Monday, June 28th. Nancy will be talking about the work of Defending the Early Years and what concerns us most.
 Monday, June 28 at 4:00 p.m. ET (1:00 p.m. PT)

Kathy Hirsh-Pasek will be hosting the keynote discussion about her work on children's learning and the impact of the pandemic.  Kathy is the author of 14 books on children's learning, most notably 'Einstein  Never Used Flashcards: How Children Really Learn and Why They Need to Play More and Memorize Less' and her most recent book, 'Becoming Brilliant: What the Science Tells Us About Raising Successful Children,  and hundreds of publications.  She is the Stanley and Debra Lefkowitz Faculty Fellow in the Department of Psychology at Temple University and a Senior Fellow at the Brookings Institution. She is committed to translating current work in the science of learning for professional and lay audiences.  To that end, she pioneered global initiatives like  Playful Learning Landscapes.
Audrey Duck and Dr. Susan Linn are back and will be sharing with us Audrey's curiosity about DEY and its Summer Institute.
We will continue this conversation about how to leverage the learning from the pandemic to ensure that we go beyond "returning to normal." That we use this unique opportunity to push for an early childhood education that values our teachers for the professionals and experts that they are and recognizes that education should meet children where they are developmentally and to stop pushing for faster and earlier.
Kaliris Salas-Ramirez, Professor & Distinguished Medical Lecturer at CUNY School of Medicine. Dr. Salas teaches neuroscience, endocrinology, human reproduction and practice of medicine.  At CSOM/CCNY she conducts research on sex specific interventions for cognitive decline as a result of illicit or therapeutic drug exposure with a particular interest in developmental exposure to drugs, neural plasticity and efficacy of treatment/interventions.  She has also published multiple peer-reviewed papers on her work in journals like Neuroscience, Physiology and Behavior, Molecular Neurobiology, in addition to several book chapters on sexual behavior, sex and gender. Dr. Salas aspires to use her platform as a neuroscientist, Puerto Rican, woman and mother to support anti-oppressive work and changing systems for equity, racial and social justice.
Wendy Cole, Director of Maple Street School, a progressive anti-racist cooperative play-based preschool in Brooklyn, NY.  Wendy is a Play Revolutionary, as a founder of a racial and social justice conference and series for early childhood educators, Little Chairs Big Differences, where she learns and leads at the same time. Wendy is committed to dismantling white supremacist culture beginning with herself. Wendy is also a founder in the Brooklyn Coalition of Early Childhood Programs, a coalition dedicated to policy, advocacy, and mutual support made up and led by diverse early childhood program leaders in Brooklyn,
Geralyn Bywater McLaughlin, CoTeacher/Leader at Mission Hill School, a K-8 pilot public school in Boston, MA, that has embraced the concept of educating the whole child – mind, body and spirit – focusing on the academic, intellectual, artistic, social, emotional, and civic growth of each child. Geralyn is a veteran educator with over 30 years' experience in early childhood education, contributing to many education-focused publications like Rethinking Schools and Community Playthings' monthly blog.  She was the founder of Empowered by Play and is currently on the DEY Board of Directors as Treasurer.
Dr. Denisha Jones, DEY's Co-Director, will be the moderator.
Tuesday, June 29 at 4:00 p.m. ET (1:00 p.m. PT)

An intimate conversation with William Doyle  and Pasi Sahlberg, authors of Let the Children Play: Why More Play Will Save Our Schools And Help Our Children Thrive   plus our Co-Founder, Dr. Nancy Carlsson-Paige and our Co-Director, Dr. Denisha Jones.  Their Play Chat will then lead into a discussion with Cassie Creswell about how she advocated for the right to play in Illinois. 
Pasi Sahlberg, is a Finnish educator and author who works as professor of education at the UNSW Sydney in Australia. He has worked as a schoolteacher, teacher-educator, researcher, and policymaker in Finland and advised schools and education system leaders around the world. He is a winner of the 2016 Lego Prize and leads research on the power of play in Australia. His latest book, In Teachers We Trust: The Finnish Way to World-Class School.
William Doyle, is a New York Times bestselling author and TV producer for networks including HBO, The History Channel, and PBS. Since 2015, he has served as Fulbright Scholar, Scholar in Residence, and Lecturer on Media and Education at University of Eastern Finland, a Rockefeller Foundation Resident Fellow, and advisor to the Ministry of Education and Culture of Finland.
We will follow-up this engaging conversation with a live discussion on advocacy with Cassie Creswell.
Cassie Creswell, Co-Founder and Director of Illinois Families for Public Schools (IL-FPS).  Cassie has been advocating on public education issues in Chicago since 2010.  Through IL-FPS, a grassroots advocacy group, Cassie worked to pass the "Right to Play" in the Illinois State legislature and has worked to pass legislation on testing, class size and a landmark student privacy bill in 2019.   She is currently an interim co-chair of the national Parent Coalition of Student Privacy and also serves as a parent representative and chair of the Local School Council at her daughter's high school.  Cassie has a PhD in computational linguistics.
Resources: Defending the Early Years provides parents and educators with various. If you haven't had a chance to look over our  Six Principles to Guide Policy or our  Advocacy Platform, these are a great start.  And don't forget about our mini grants  to help with local advocacy efforts. 
Dr. Denisha Jones, DEY's Co-Director, will be the moderator.
Wednesday, June 30 at 4:00 p.m. ET (1:00 p.m. PT)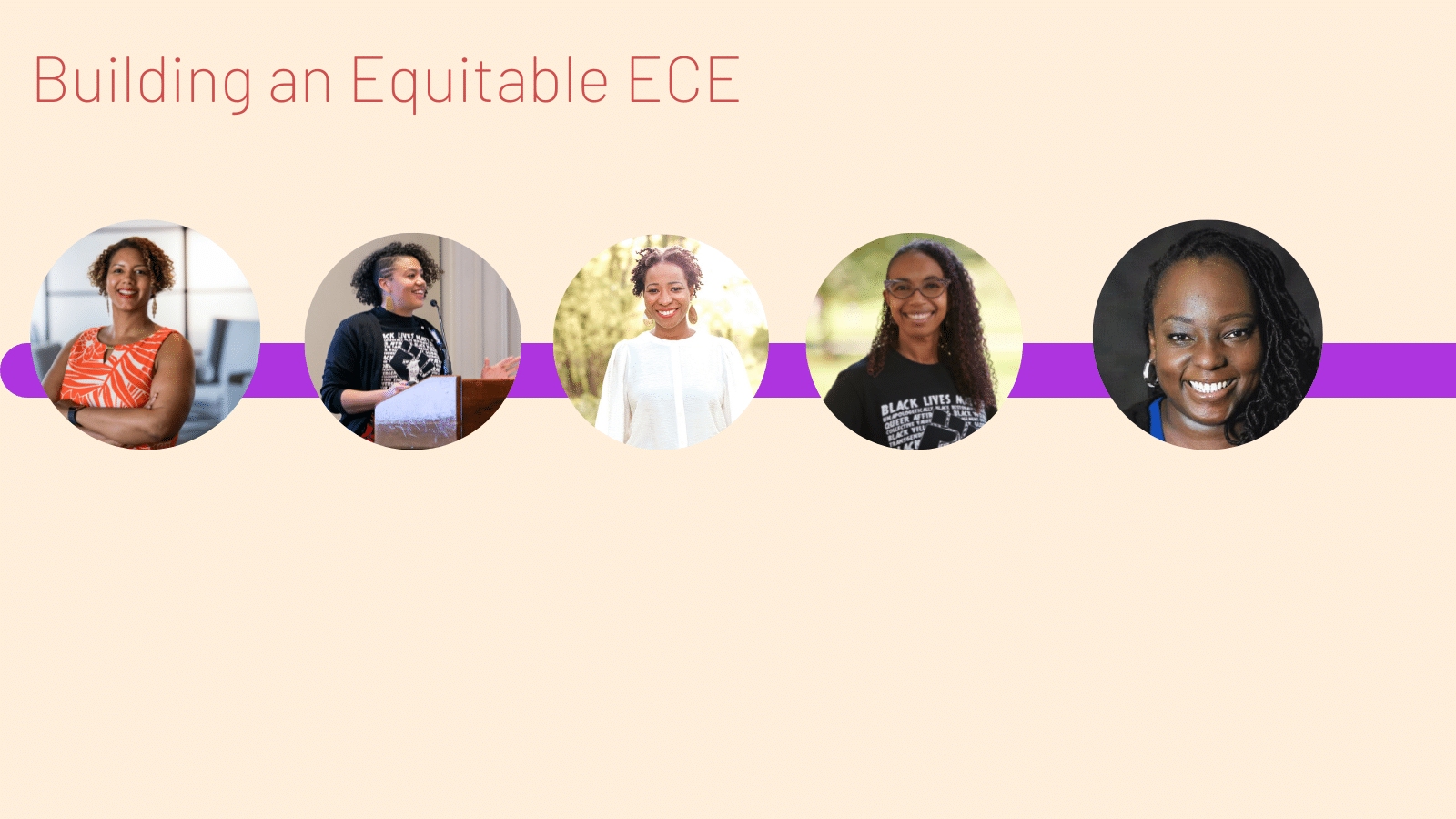 Takiema Bunche Smith, will be hosting the keynote discussion on Liberatory Early Childhood Education.  Takiema is the President and Founder of Anahsa Consulting and the Executive Director of the Center on Culture, Race and Equity at Bank Street College.  She envisions and builds a culture of anti-oppression and racial equity for children and adults in all that she does.  She has authored and co-authored articles for the Washington Post and Chalkbeat NY   and is the founder of the Black Lives Matter at School Early Childhood Symposium   and leads a team at Bank Street College to provide research-based and practice-proven professional development to support schools and districts to become anti-racist and culturally responsive.  Takiema holds three Master's degrees in Early Childhood & Elementary Education from Bank Street College of Education, Urban Education Policy from the CUNY Graduate Center, and from NYU Wagner's School for Public. Takiema participated in our 2020 Summer Institute last year.
Afterwards, a follow-up conversation with other educators on how to advocate for and build an equitable early childhood education for children and teachers.
Megan Madison (she/her), Author of Our Skin.  Megan is a doctoral candidate, facilitator and author in New York City.  She is a trainer for the Center for Racial Justice in Education, the New York Early Childhood Professional Development Institute and Bank Street's Center on Culture, Race & Equity. Megan recently completed a term on the governing board of the NAEYC where she contributed to the development of their recent position statement on  Advancing Equity in Early Childhood Education.
Ashley Brailsford (she/her/hers), Founder of Our Joyful Learning.  Ashley is a long-time educator and nature enthusiast who launched  Community to help nature-connected organizations transform their programs to be more culturally relevant and inclusive by honoring culture, exploring well-being, and inspiring joy. She began her teaching career as an elementary Montessori teacher before becoming an early childhood professor. While working in higher education and later as a non-profit director of family literacy programs across the country, much of her teaching and research interests were grounded in family engagement and building trust in culturally, racially, and linguistically diverse communities.
Laleňa Garcia (she/her/hers), Author and Educator.  Laleňa is a kindergarten teacher who grounds her teaching in community, justice and equity since 2000.  She is a graduate of Yale University and Bank Street College of Education. When she isn't working with her kindergarten students, she is a Gender and Sexuality Trainer, helping early childhood professionals and families to create expansive and supportive understandings of gender, sexuality, relationship and family structure.  Her online course, Rooted, offers contextual background and concrete strategies for anti bias work in Early Childhood Education. Her first children's book, What We Believe,  was recently published in 2020.
Dr. Denisha Jones, DEY's Co-Director, will be the moderator.
Resources: Part of grounding our early childhood classroom in equity, justice and inclusion is to recognize our own implicit biases.  A good tool to help identify one's own biases is Harvard University's Project Implicit.
Register now for the Institute and three days of learning and inspiration on how we move forward as a community, as activists, as educators and parents now that we have a child-centric administration and a public school educator as Secretary of Education.
Mark your calendar, June 28th-30th