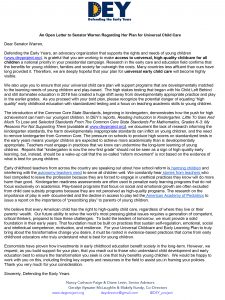 Dear Senator Warren,
​
Defending the Early Years, an advocacy organization that supports the rights and needs of young children (www.deyproject.org), is grateful that you are working to make access to universal, high-quality childcare for all children a national priority in your presidential campaign. Research in the early care and education field confirms that the benefits for young children, families and society far outweigh the costs. Many countries less affluent than ours have long provided it. Therefore, we are deeply hopeful that your plan for universal early child care will become highly visible.
We also urge you to ensure that your universal child care plan will support programs that are developmentally matched to the learning needs of young children and play-based.  The high stakes testing that began with No Child Left Behind and still dominates education in 2019 has created a huge shift away from developmentally appropriate practice and play in the earlier grades.  As you proceed with your bold plan, please recognize the potential danger of equating "high quality" early childhood education with standardized testing and a focus on teaching academic skills to young children.
The introduction of the Common Core State Standards, beginning in kindergarten, demonstrates how the push for high achievement can harm our youngest children. In DEY's reports, Reading Instruction In Kindergarten: Little To Gain And Much To Lose and Selected Standards From The Common Core State Standards For Mathematics, Grades K-3: My Reasons For Not Supporting Them [available at www.deyproject.org], we document the lack of research informing the kindergarten standards, the harm developmentally inappropriate standards can inflict on young children, and the need to remove kindergarten from Common Core. The pressure on schools to produce high scores on standardized tests in the early years means younger children are expected to achieve more academically than is developmentally appropriate. Teachers must engage in practices that we know can undermine the long-term learning of young children.  Reports that "kindergarten is now the new first grade" should not be seen as a sign of high-quality early learning, but, instead, should be a wake-up call that the so-called "reform movement" is not based on the evidence of what is best for young children.
Early childhood teachers from across the country are speaking out about how school reform is harming children and interfering with the autonomy teachers need to serve all children well. We constantly hear stories from teachers who feel compelled to leave the profession because they are forced to engage in unethical practices they know will do more harm than good.  Kindergarten readiness assessments are often used to penalize early learning programs that do not focus exclusively on academics. Play-based programs that focus on social and emotional growth are often excluded from child care subsidy programs because they are not perceived as high-quality programs. The research on the importance of play is well- documented and the decline in access to play led the American Academy of Pediatrics to issue a report on the importance of "prescribing play" to parents of young children.
We believe that every American child has the right to high-quality child care, regardless of where they live or their parents' wealth.  Our future ability to solve the world's most pressing global issues requires a generation of competent, critical thinkers, prepared to face these challenges. To build the leaders of tomorrow, we must provide a solid foundation in their early years. That foundation must be built on practices that sustain self-regulation, emotional, social and intellectual competence, motivation, and resilience. For your Universal Childcare and Early Learning Plan to truly bring about the transformative change you desire, it must be rooted in evidence-based practices that come from early childhood educators who truly understand what is best for young children.
Economists have proven how investments in early childhood education benefit society in the long-term. However, we request, as you build support for your plan, that you reach out to those who understand child development and early education best to ensure the transformation you seek is one that truly benefits young children. We would be happy to work with you on this, including finding key experts and resources in the field to assist you in framing your policies.
Thank you very much for your consideration.
​Sincerely,​
Defending the Early Years