Grantee: Mary Jane Eisenhauer, Associate Professor and Director of the Center for Early Learning at Purdue University Northwest, Westville, IN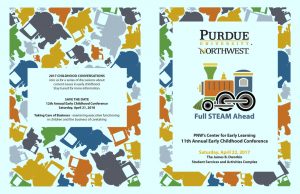 Description of how they used their DEY Mini-Grant:
On Saturday, April 22, 2017 over 300 early childhood professionals gathered at the Westville campus of Purdue University Northwest for the 11th annual early childhood conference. This year's theme, "Full STEAM Ahead," celebrated the innovative integration of science, technology, engineering, arts, and mathematics within early learning environments. However, "Full STEAM Ahead" also reinforced our commitment to the momentum of advocacy for children and families. Thanks to a generous mini-grant from Defending the Early Years, the day-long event featured an Advocacy & Action Session to encourage early childhood professionals' development as informed advocates.
Purdue University Northwest (PNW), a regional institution of Purdue University, is home to the B.S. Early Childhood Education program which provides undergraduate preservice education for candidates pursuing licensure for birth – grade 3. The Center for Early Learning (CEL) at PNW serves as the Northwest Indiana support network for the education and professional development of all working on behalf of the healthy development of young children and their families. The annual conference is the signature event for the CEL.
A highlight of this year's conference was the special afternoon session "Supporting the Voices of Early Childhood Professionals." This Advocacy and Action professional development opportunity was facilitated by local early childhood provider, Erika Watkins of East Chicago, Indiana and Laura Weaver, Director of Programs and Member Development for Indiana Campus Compact. This portion of the conference provided early childhood professionals in Northwest Indiana information and resources about the value of high quality affordable, accessible early learning and equipped them with tools and strategies to advocate for children and families.
Child care providers, primary grade teachers, child care directors, preservice students, parents, higher education faculty from all over northern Indiana attended the conference. Throughout the afternoon, they were invited to view scenes from the documentary "The Raising of America." The participant outcomes for the session included:
1) To explore the key message of the film, "The Raising of America" – Children and families have a right to accessible, affordable and high-quality early care;
2) To craft a personal message with well-reasoned arguments for developmentally appropriate practices in classrooms, assessments and standards;
3) To develop an action plan to further engage their local community to advocate for appropriate early learning standards, assessment and classroom practices.
The funding from DEY enhanced the conference experience as 50 early childhood professionals took some part in the Advocacy and Action session. After each segment of the film, Erika and Laura prompted group discussion about the key points from the film. Some attendees joined in for a single segment and discussion, others stayed for the entire afternoon. In addition to viewing the film, other activities were available to promote and assist advocacy efforts. Some attendees took copies of the DEY Activist's Toolkit to plan an event in their settings. Others used the DEY position paper "Lively Minds" as background to use in a written message to local and state legislators. And, finally, many of the conference participants stopped by the session to create a button with a positive message about young children.
​
In the end, those who joined in the DEY Advocacy & Action session were really motivated to host similar conversations in their communities. They expressed enthusiasm about engaging with their co-workers, families and community members in their areas. They discussed how they could get local leaders involved in the conversation such as Indiana District 3 Senator Eddie Melton and the City of Gary Mayor Karen Freeman-Wilson. They also discussed how they could partner with the local churches in various neighborhoods as a way to connect with each community in a more meaningful and collaborative way. The session participants also really connected with each other, discovering not only the unforeseen commonalities they had with one another, but also ways to collaborate across communities and throughout the Northwest Indiana Region.