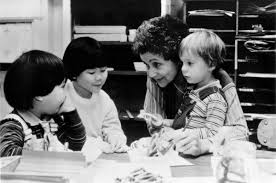 by Blakely Bundy, Co-Director of DEY and former Executive Director of The Alliance for Early Childhood, located on the North Shore of Chicago
Vivian Gussin Paley was truly a giant in our field.  She was an inspired teacher, mostly teaching kindergarten at the University of Chicago Lab School, and was the author of 13 books, including You Can't Say You Can't Play, White Teacher, and The Boy Who Would Be a Helicopter.  Her innovative teaching methods were adopted by legions of teachers in the 1990s and beyond, who successfully employed her techniques of using storytelling, which included asking children to dictate stories and then having the children act out the stories that they wrote.  Her understanding of children was truly remarkable.
In fact, that was the first time I learned of Vivian Paley's work, as a teacher of junior kindergartners at Willow Wood Preschool in Winnetka, IL.  In the late 80s, we were encouraged by her techniques and began using them in our classroom, to great success. When I became Executive Director of The Alliance for Early Childhood, we looked for an inspiring speaker for our very first Networking Dinner in January of 1991 and Vivian Paley fit the bill. Early childhood teachers from our community flocked to hear this soft-spoken but wise teacher and Vivian and I cemented our decades-long friendship.
Every few years, we would bring Vivian back to various Alliance events to speak to parents, teachers, or others and she always knocked the ball out of the park.  Always accompanied by her devoted husband, Irving, she spoke words of wisdom in her soft voice, so small that she barely peeked over the podium. But her words and insights made her a true giant.  And, in return for her presence at Alliance events, she would call me from time to time to say that she knew of an inspired teacher who would be great teaching in Winnetka's progressive schools.  I was always thrilled to be able to pass on her recommendations.
In the spring of this year, I reached out to Vivian to ask her to participate in a video project DEY is involved in that includes inteviewing "giants in our field" but, alas, her son relayed that she was no longer well enough to do so, but that she sent her best wishes and was delighted to see that I was now Co-Director of Defending the Early Years and was "glad that you have broadened your audience."  Only weeks later, we learned of her death.
Rest in peace, Vivian.  Your work and your impact on young children will live on and on.