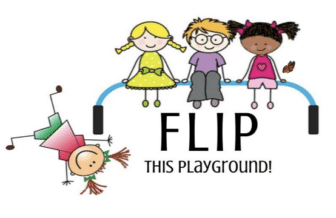 Research has shown that the early years in a child's life represent a critically important window of opportunity to develop a child's full potential, shaping the academic, social, and cognitive skills that determine a child's success in school and in life.   Our Mariposa Library Garden creates a learning environment which is inquiry based – science, technology, engineering, artistic design, and mathematics – STEAM.  If we want to raise innovative people, then we must design schools that allow space and time for children to create with their hands and minds. 
 Our DEY Mini Grant for Alhambra Preschool Academy was used to purchase an outdoor table that allowed for wheelchair access.   Alhambra is a Title I school and accredited by the National Association for the Education of Young Children.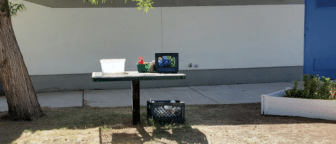 The outdoor table was installed by setting a deep footing and removing the seats.  This provided the right environment for child-sized wheelchairs to be brought to the table.  In this image, teachers are preparing for a water table activity during the playground period.
The in-ground mounted table allows access by the special education classroom and children with wheelchairs.
 The teachers use this table for sensory provocations, potting seedlings, and reading storybooks together.
We envision an outdoor space that supports foundations in literacy.
An outdoor library house includes 25 award-winning publications, many are bi-lingual English/Spanish publications.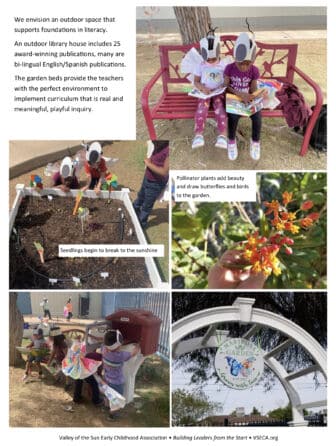 The garden beds provide the teachers with the perfect environment to implement curriculum that is real and meaningful, playful inquiry.
Feeling inspired to apply for your own Action Mini Grant? Click here!