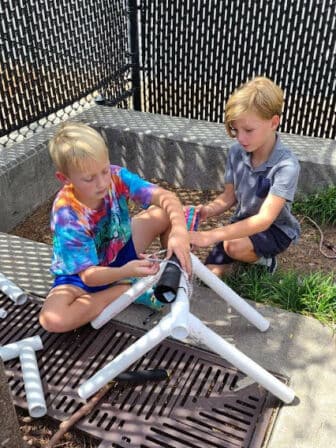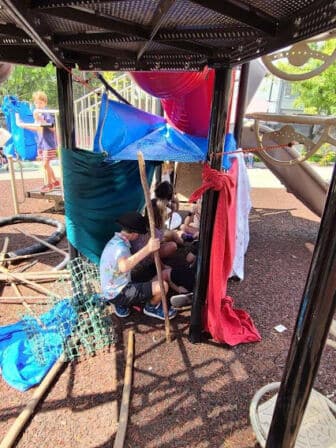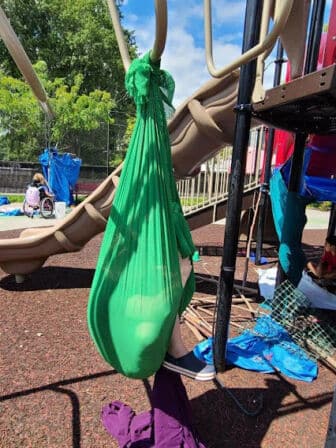 I'm Sylvan Taylor, the Schoolwide Enrichment Teacher at The Downtown School, a public pre-K-8th school in downtown Winston-Salem, North Carolina. We celebrated our 30th year of innovative, child-centered education last year, and I'm always excited to share the amazing things going on at my school!
This is my 10th year overall at DTS, my 5th in this position (and my 19th year working in education in some capacity). I initially came to DTS as a classroom teacher, teaching 4th and 5th grade (teachers' "loop" with our classes in elementary school), then left for 5 years while my husband earned his doctoral degree and began his career in academia, then returned, entering my new (dream) position as Schoolwide Enrichment Teacher.
In my years away from DTS, I spent time running a small in-home childcare and playschool in Baton Rouge Louisiana, "Sprouts." During those years, which were a magical time for my family and me, I delved deeply into the field of Playwork and the theory of Loose Parts, and I explored so much of the extensive research that supports the things that I knew in my heart are best for kids. When I returned to the world of public education armed with this newfound knowledge, I felt strongly that I needed to find a way to bring the principles of Playwork and Loose Parts to kids in a public-school setting.
I'm fortunate to have incredibly supportive administrators and colleagues who really understand the benefits of this messy work and the connections to our school's core values in student voice and choice through the Schoolwide Enrichment Model. We are also fortunate to have a team of dedicated parent volunteers who staff this project, and to have the support of Linda Kinney, Education Specialist and Manager of Playful Pedagogy at the NC Zoo, who leads  a yearly training for the Loose Parts volunteers. Linda holds a Master of Arts degree in Play and Playwork from the University of Gloucestershire and is a tireless, passionate advocate for play for all kids.
Every Friday, I pull the Loose Parts out of our playground sheds, giving kids opportunities for fort-building, swing construction, bucket drumming, fashion shows, "IRL Minecrafting," and every kind of imaginative play you can imagine. Everyone from kindergarten through 8th grade gets into the action – watching 8th graders play is a special kind of joy. Our trained parent volunteers support and facilitate play all day and help maintain the materials, as well. Kids look forward to "Play Day" all week, and many already have their plan before recess begins! The creativity, the social connections – especially for those who may struggle with social interactions on other days, the engineering thinking… every Loose Parts Friday is different, and every Loose Parts Friday is wonderful!
If you are interested in learning more about our school and this program, please reach out to me at sylvan.taylor@gmail.com. I'm always excited to talk to other advocates for play! Local educators can join me at the annual NCAGT Conference March 2-3, where this year's theme is "Coloring Outside the Lines," and you can tour The Downtown School and talk to panels of teachers and parents as part of our featured sessions. I'll be presenting both about Loose Parts and about our Enrichment Clusters, another valuable time for student-led learning and exploration at DTS.
Thank you, Kisha, for inviting me to talk about our program on your Defending the Early Years Podcast. I hope our work is inspiring for others, and I'm grateful to be given this platform to share!