By Pamela Archer Hamlin
On a warm summer morning, I walked into Little Sun People, the renowned Afro-Centric Child Care Center in Bedford Stuyvesant, Brooklyn, with anticipation. Learning from Takiema Bunche-Smith, the visionary behind the "Journey to Nia: Centering Black joy and eradicating anti-Black racism in early childhood" curriculum, had drawn me in. Having previously engaged with her during an online workshop, I was eager for a deeper dive. Equally, the prospect of connecting with Mama Fela Barclift, the driving force behind Little Sun People, added to my enthusiasm.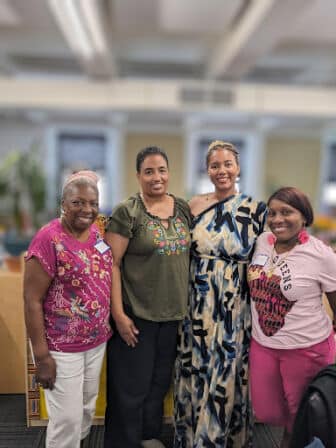 An Inspiring Setting
What unfolded surpassed expectations. Amidst the open-classroom layout of Little Sun People, a small group of early childhood professionals from across the county convened. The space is adorned with artifacts and the children's brilliant creations reflecting African heritage and influences from different cultures in Africa, as well as Central and South America, and the Caribbean. The walls bore images of distinguished Black contributors from the past and present, along with vibrant flags and prints. Shelves held a treasure of affirming board books and picture books, accompanied by a musical backdrop—all aligned with the retreat's purpose and the care of young children.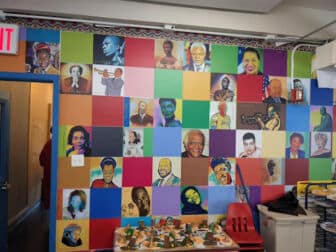 Meaningful Conversations 
We delved into the heart of the matter—unraveling anti-Black racism, its historical threads, and implications for all children, but especially Black children. We explored our own racial identities, which are being shaped from as early as six months of age. This catalyzed a discussion on nurturing positive racial identities in the very young, even as this can be met with challenges in the world at large. We confronted the reality that children in America are socialized into anti-Blackness from their earliest moments. Early childhood spaces can serve as sanctuaries, offering a haven of support and affirmation.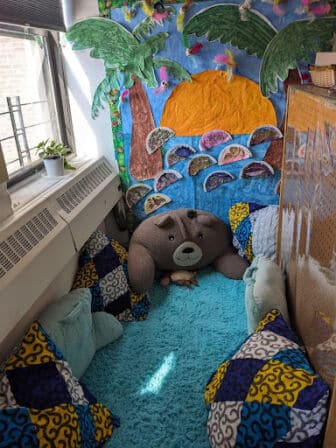 Embracing Change
As educators, we need to do the hard work of untangling our own internalized anti-Blackness and recalibrate our perspectives. It was time to reset our beliefs, fully comprehending history's influence on both the young and ourselves. Armed with this insight, we can shift our mindset and redo our approach, absorb new knowledge, and renew our practices. We can then strive for equity and justice while nurturing the hope within the children we guide. Central to this endeavor is granting them the luxury of free play and positive affirmations, a realm where they can authentically embrace their age and experiences. 
Fostering a Brighter Future
In this endeavor, it is essential to recognize that the essence of being a Black child is not a problem. Rather, it is anti-Black racism that is the problem–a problem we are dedicated to eradicating. Our commitment lies in nurturing an environment where Black children can flourish. We endeavor to foster their love for self and others, shaping them as confident and empathetic beings. 
A Lasting Impact
 I have been in the early childhood field for thirty years. In my current role as Family Literacy Specialist for the Prince George's County Memorial Library System (MD), I support programming for children aged birth to five, alongside their families and caregivers. The lessons and insights garnered from this retreat will serve as a guide to advocate more effectively for Black children. I am committed to sharing this wisdom with our wonderfully diverse county's librarians, families, and educators.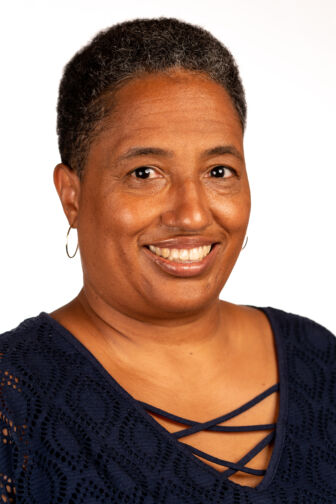 Pamela Archer Hamlin is the Family Literacy Specialist for the Prince George's County Memorial Library System (MD)  She possesses a Bachelor's degree in Psychology from St. Mary's College of Maryland and completed graduate coursework in Early Childhood Education/Deaf Education from Gallaudet University in Washington, DC.  For thirty years, Pam has worked in the early education field as an early childhood educator and administrator, teen parent resource and referral counselor, teacher/child care provider educator, and library associate. As the library system's Family Literacy Specialist, Pam works for the effective execution of library programs and services in support of children under the age of five and their caregivers. This includes providing brain-based, Every Child Ready to Read-inspired, workshops and coaching to parents, early childhood educators, and librarians on the importance of relationships and play for school/life readiness. She is a firm believer in parents being their child's first teacher, and in encouraging caregivers in this role. Pam was a member of the  Association for Library Service to Children's (ALSC) 2019 Newbery Book Award Committee, and previously served on their Early Childhood Services and Programs Committee.