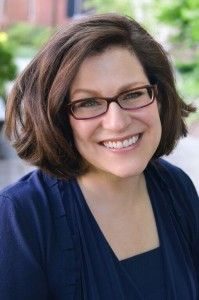 BOSTON, October 2, 2019 – Leading advocacy group for early childhood education, Defending the Early Years (DEY), announced today that early childhood educator and New York Times bestselling author, Erika Christakis, Norwich, Vt., has joined its National Advisory Board. As a member, Christakis will help bolster the organization's advocacy efforts toward developmentally appropriate early childhood education—including play-based learning and formative assessments over time—and a just, equitable, and quality early childhood education for every young child.
"Erika's commitment to appropriate early childhood education, and her passion for a culture that values play, make her a wonderful fit for DEY," said Nancy Carlsson-Paige, President and Founder of Defending the Early Years. "She brings a deep understanding of the issues impacting young children today and we're excited to work with her to amplify the voices speaking up for them."
Erika Christakis is an early childhood educator and New York Times bestselling author of "The Importance of Being Little: What Young Children Really Need from Grownups." Currently an independent educational consultant, Christakis is a former faculty member of the Yale Child Study Center and has written widely about child development from preschool through the college years. Christakis is an honors graduate of Harvard College, where she majored in anthropology, and holds master's degrees in public health, communication, and early childhood education. She is a Massachusetts and Vermont-certified teacher (pre-k through 2nd grade) as well as a licensed preschool director. For two years, she wrote a TIME.com Ideas column and her work has been featured in a number of other venues, including The Atlantic, The Washington Post, The Boston Globe, CNN.com, Salon, and NPR.
The DEY National Advisory Board comprises respected leaders in early childhood education. Members enhance the advocacy and educational efforts of DEY by sharing their professional expertise, expert advice, support, passion, and relevant resources and relationships. Christakis joins current National Advisory Board members:
Sherry Cleary, Executive Director, New York Early Childhood Professional Development Institute, The City University of New York, NY
Bill Crain, Professor of Psychology, City College of New York, NY
Stephanie Feeney, Professor Emerita, University of Hawaii at Manoa, Portland, OR
Doris Pronin Fromberg, Professor of Education, Hofstra University, NY
Ayla Gavins, Former Principal, Mission Hill School, Boston, MA
Michelle Gunderson, First grade teacher, Nettlehorst School, Chicago Public Schools, Chicago, IL
Edgar Klugman, Professor Emeritus Wheelock College & Co-Founder of Playing for Keeps, Boston, MA
Deborah Meier, author and activist, NY
Ruth Rodriguez-Fay, Save Our Schools and United Opt Out, Boston, MA
James St. Clair, former kindergarten teacher, Cambridge, MA
Judith Van Hoorn, Professor Emerita, University of the Pacific, El Cerito, CA
About Defending the Early Years
Defending the Early Years (DEY) is a nonprofit organization advocating for developmentally-appropriate learning in early childhood and elementary school years. Founded by respected experts in early childhood education, Nancy Carlsson-Paige, Ed.D. and Diane Levin, Ph.D., and steered by a National Advisory Board, DEY aims to educate parents, teachers and administrators on the evidence-based approaches to how young children learn best; to embolden a return to a model of active, play-based and experiential learning and ongoing observations and formative assessments over time; and to make these opportunities available to every young child. For information, visit dey.org, Facebook: @DefendingtheEarlyYears, Twitter: @DEY_Project, and YouTube.
Media Contact: 
Nancy Retherford, Nancy.Retherford@dey.org; +1.317.460.6838