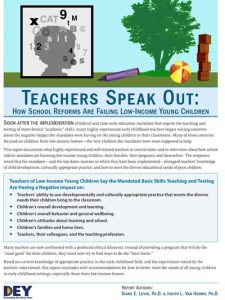 by Diane E. Levin, Ph.D., Professor of Education, Wheelock College and Judith Van Hoorn, Ph.D., Professor Emeritus, University of the Pacific (2016)
Defending the Early Years is proud to announce the release of its newest report, "Teachers Speak Out: How School Reforms Are Failing Low-Income Young Children."
In the wake of federal and state education mandates, this report documents interviews with early childhood teachers across the country about how school reforms negatively affect low-income young children.
Authored by Diane E. Levin, Professor of Early Childhood Education, Wheelock College, and Judith L. Van Hoorn, Professor Emerita, University of the Pacific and published by Defending the Early Years, the report finds that the mandates disregard teachers' knowledge of child development, culturally appropriate practice, and how to meet the diverse educational needs of poor children.
Find the full 16-page report here.