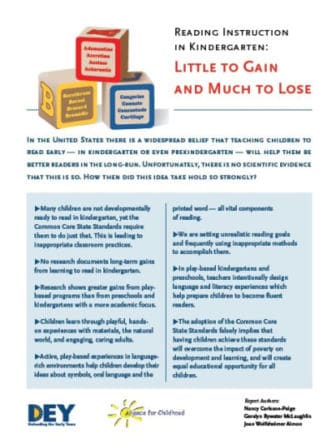 Today, in conjunction with the Alliance for Childhood,  we are thrilled to release our new report Reading Instruction in Kindergarten: Little to Gain and Much to Lose. In the report we concluded that Common Core reading requirements for kindergarten are inappropriate and not well-grounded in research. Under Common Core, students are expected to be able to read before entering first grade.
The report maintains that the pressure of implementing the reading standard is leading many kindergarten teachers to resort to inappropriate drilling on specific skills and excessive testing. Teacher-led instruction in kindergartens has almost entirely replaced the active, play-based experiential learning that children need based on decades of research in cognitive and developmental psychology and neuroscience.
In an effort to shift back to a developmentally appropriate, child-centered curriculum, Defending the Early Years and Alliance for Childhood call for the withdrawal of the kindergarten standards from the Common Core so they can be rethought along developmental lines.
Please check out our video for more information!
[youtube https://www.youtube.com/watch?v=DVVln1WMz0g&w=560&h=315]