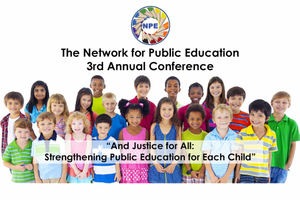 The 2016 Network for Public Education Conference, held April 15-17 in Raleigh, NC, is truly an experience—something hard to describe.  For a few days in April, education and social justice activists from around the country come together in a burst of energy and synergy to share lives and ideas and to build an education movement for equity and justice for all children.
I was glad that Denisha Jones, DEY National Advisory Board member, and I attended because our session was the only one focused exclusively on young children.  Our panel was called T-E-S-T and Not PLAY is a Four-Letter Word:  Putting the Young Child and the Teacher at the Center of Education Reform.  Susan Ochshorn, early childhood author and journalist, moderated, and we were joined by Michelle Gunderson, first grade teacher and early childhood leader in the Chicago Teachers Union. We covered many issues in a short time including the decrease in play and active learning in classrooms for young children, the disproportionate effects of corporate education reform on black and brown children and those in low-income communities, and the need to strengthen our advocacy for young children.  Lots of folks attended the session and I was really glad we were there to connect early childhood issues to the larger landscape of education reform that were the focus of the conference.
Many people came up to me over the course of the three days in Raleigh to tell me how they follow DEY, appreciate us, and benefit from using our materials.  It was really heartening to realize that we are voicing important ideas and issues that might otherwise not be accessible to teachers and parents.  People are using the papers we've put out in a variety of ways as well as our fact sheets, and many say they read our website regularly.
At the conference, we learned about many new documentary films being made about the current state of education in our country.  All of these films and how to order them are listed on the NPE website.   In a separate session we saw a "fine cut" preview of the almost finished documentary Backpack Full of Cash.  This film is being made by Sarah Mondale and Vera Aranow who made the PBS series called SCHOOL which received so much acclaim.   Their new film unwraps the movement to privatize our nation's schools, telling a straightforward and understandable narrative through the eyes of the communities affected.   The film should be out in the coming year and I think its time is right.
On Saturday, we listened to a riveting keynote speech from Reverend William Barber, president of the North Carolina chapter of NAACP, about the history of racism in our schools and the continuing reality of systemic racism that permeates our society today.  Rev. Barber is a gifted orator who can move his listeners to new levels of awareness by his artistic crafting of words and powerful delivery.Themes of charter schools, over-testing, privatization, racial justice, poverty, global education, democracy, and public education ran through the speeches and sessions of the conference, helping all of us to heighten our understanding and also our resolve to continue our work.  I felt re-energized about our work at Defending the Early Years, proud of what we do, sure that we should keep on.
​
Maybe next year YOU will want to attend the Network for Public Education conference—you won't be disappointed!